I am smitten, I tell ya, smitten with pumpkins. I wanted to make some pumpkins this year for decor and didn't want the traditional orange…not that they aren't cute but I was in the mood for something a little different.
I was over at the Freckled Laundry's Textile Party and spotted something from 20 North Ora that more than caught my eye…. be still my heart….Muslin Pumpkins by Judy and she has a wonderful tutorial so I will defer to her for the details, but I had to make the pumpkin she had created and I am crazy about this little beauty…hence the reason there are so many pictures of 'her'.
I called mine a Shabby Chic Pumpkin  'cause it's mine and that's what I want to call it.  I hope you like it as much as I do!
Isn't she an orb of pure pumpkin joy?

and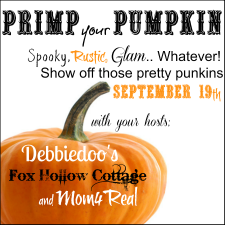 Print Friendly